Silicon Valley Versailles to Hit Auction Block October 27
October 10, 2012 Filed under: The Buzz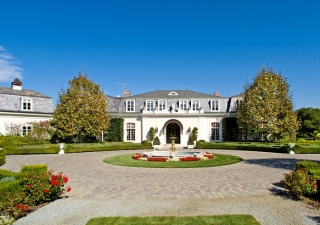 A 14,651-square-foot home, according to the owner, with seven bedrooms, seven full bathrooms and two half-bathrooms on almost 5 acres, coming up for auction without reserve Oct. 27 through Concierge Auctions. The house was previously listed for $21 million and later for $13 million. Property taxes in 2011 were $162,229.44.

Built in the 1920s in the style of a French château, this home includes a marble entrance, a ballroom, a billiards room and a 5,000-bottle wine cellar. A dumbwaiter connects the two kitchens, in case you're entertaining on a grand scale. The property also has a citrus grove, two greenhouses, formal French gardens, a cutting garden, a tennis court, a pool and a croquet lawn. The new owners will have to negotiate their own contract with the manager of the private vineyard if they want him to stay.

SELLER: Le Soleil De Chamonix LLC, of which one of the beneficiaries is Kevin Kalkhoven. An Australian venture capitalist, Mr. Kalkhoven is the former chief executive officer of JDS Uniphase.
THE NEIGHBORHOOD: It's less than 10 minutes to dinner at the Village Pub in downtown Woodside, a favorite of Mr. Kalkhoven.
WHAT WE PAID: The owners paid $16.3 million for the home in 2000 through a limited-liability company. Over the years, Mr. Kalkhoven estimates that another $3.8 million was spent updating and maintaining the property, including bringing artisans from France to create the gold-leaf ceiling in the ballroom.
WHY WE'RE SELLING: Mr. Kalkhoven has relocated to the East Bay.
WHAT WE'LL MISS: "The feeling of glamour that you get when you walk into it," says Mr. Kalkhoven. "You walk through the gate and you feel like you're a million miles away from Silicon Valley, and you're 10 minutes from Silicon Valley."
WHAT WE WON'T: Waking up every morning and seeing the gym attached to the master bedroom. "It drove me crazy," says Mr. Kalkhoven, adding that he still exercises but is happy not to get up in the morning and immediately see the gym.
COMP: Nearby, an approximately 9,000-square-foot house with nine bedrooms and 8½ bathrooms on 92 acres is asking $85 million.
OTHERS SAY: Mary Gebhardt of Alain Pinel Realtors says the property stands out because of the gardens, the flat acreage and the architecture of the house. "It's a grand scale house in the old world sense," she says. "It's like Versailles." Mary Gullixson and Brent Gullixson of Alain Pinel Realtors share the listing.

LOCATION:320 Harcross Rd.
Woodside, Calif.

By SARAH TILTON
wsj.com
article