Last to Fall and First to Recover: The Real Estate Market of San Francisco
September 27, 2012 Filed under: The Buzz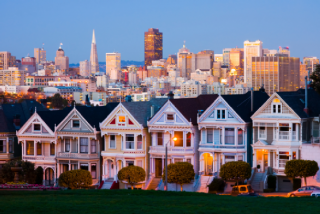 San Francisco has often been the last to fall and first to recover during the peaks and valleys of real estate and this last cycle has been no exception. According to the New York Times and the Case Schiller Index San Francisco has seen an 18% increase in home values from the lows of the most recent cycle.

So is now the time to buy a home in San Francisco? There is rarely a bad time to buy a home in San Francisco's preeminent locations. In 1995 an investment banker mentioned that the craziest "investment" he made that year – other than Netscape – was his Sea Cliff home. Home buying at this level was new to him and spending nearly two million dollars was hard to grasp. However with stunning views of both the Pacific Ocean and the majestic span of Golden Gate Bridge, the temptation got the best of him and he made the plunge. Fast forward through two real estate cycles and the worst economy since the Great Depression and his Sea Cliff view home proved to be the best investment he made in that seventeen year span. But more than an investment it became a home where he and his wife are now raising their three children.

So when is the best time to buy a home in San Francisco? Leave the Case Schiller Index at the door and think about this: When you walk into a home and everything in your world suddenly makes sense. You have arrived and you can see your future from that point on unfold before your eyes. Like true love, you just know. Whether it be the comfort of a warm fireplace, the breathtaking expanse of a panoramic view or the simple welcome home and warm smile from your doorman, "home" in San Francisco is like no other.

Malin Giddings has been providing the highest level of service and experience to San Francisco home buyers looking for exceptional properties in exceptional locations for over thirty years. Her insight and access to rarely available San Francisco homes is unparalleled. Call Malin to schedule an appointment today.