Malin Giddings receives Most Valuable Agent award 2016
August 20, 2016 Filed under: Press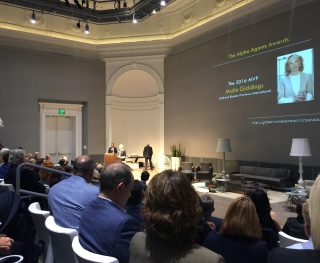 The Luxury Marketing Council of San Francisco and San Francisco Magazine have announced that legendary Coldwell Banker real estate agent Malin Giddings is the recipient of the 2016 MVP (Most Valuable Producer) Award.
Ms. Giddings was chosen for the prestigious award because of her industry pre-eminence and enduring market leadership and for the high regard with which she is held by industry peers and clients. A panel comprised of senior representatives of The Luxury Marketing Council of San Francisco and San Francisco Magazine who are intimately familiar with Bay Area real estate, was tasked with making the decision.
The MVP Award was presented to Ms. Giddings at the Annal Alpha Agents event held August 18th at The Wilsey Center for Opera at 301 Van Ness Street in San Francisco.
MALIN GIDDINGS MVP INTRODUCTION:
(Watch Video Here)
In the stratospheric heights of the Bay Area's ultra-luxury real estate market, rising to the top of the field is no easy task. The city boasts a group of uber agents from several local brokerages that few cities in America can match. And, selling over $100 million in real estate won't even get you in the top 10 in this group.
Picking an MVP was therefore extremely challenging. We decided the winner would not be based solely on sales volume, although, that was a critical element.
The final choice was also based on how valuable that person is to his or her brokerage, how long they have been at the pinnacle of the industry, and the degree at which they are held by clients, colleagues and competitors alike.
Given all that, our selection for the very first MVP award was a natural choice.
A recent article said of her: She rules Bay Area real estate as does a monarch, with her kingdom being the nation north of California Street, home to San Francisco's wealthy, influential and social elite.
She is the quintessence of a top producer - charming and gracious, but unrelenting in her quest for excellence in everything she does.
She possesses an uncompromising ethic of hard-work, and a commitment to a belief system, refined from decades of experience.
She values candor, a passion for the business and above all else – her client's satisfied smile.
And, her numbers speak for themselves. Last year, this agent and her team recorded an astounding $379.3 million in sales volume and 56 transaction sides. Those numbers were particularly remarkable given how tight inventory in San Francisco was last year and how competitive the local market has been over the last several years. Those numbers also had her ranked as the number one agent for her company in Northern California and number two agent in North America, surpassing 85,000 independent sales associates.
Her staying power at the top of the field in San Francisco is legendary, and she continues to be ranked by the Wall Street Journal as one of the very top agents in the United States, without fail.
She is without a doubt, ladies and gentleman, one of the most talented, hard-working and respected luxury real estate professionals in this country, if not the world.
Ladies and Gentleman, please join me in congratulating the Luxury Council's first MVP award recipient, Malin Giddings of Coldwell Banker… Applause...