Power Players of San Francisco
March 07, 2013 Filed under: Press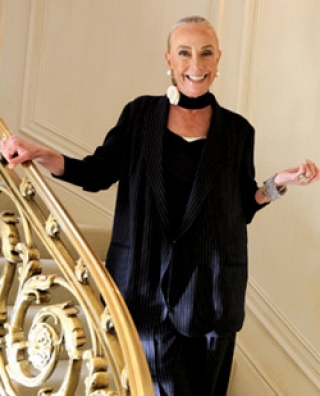 Haute Living talks with everyone who's anyone in the red hot San Francisco marketplace.
Malin Giddings boasts a record billion dollar in sales and has become an expert in her 30 years in northern California's exquisite luxury real estate market. Giddings has been featured in Unique Homes Magazine and has been named among the most influential people in luxury home real estate. She is a renowned realtor, named Northern California's premier agent, and No. 3 worldwide. Hailed as a rainmaker even in the toughest of markets, the woman of style is known for her strength and wisdom, and has written a book on exclusive locations in San Francisco.
HL Where are you from? What attracted you to San Francisco?
MG I'm a native of Stockholm, and was born on the day of the invasion in Normandy. My father was a diplomat and president of the Nobel Foundation, so I was exposed to the exciting international life. In the late 1960s, I visited a cousin who lived on Telegraph Hill and modeled for Saks Fifth Avenue. I fell in love with the city! Two Swedish girls living on the Hill…how could one not?
HL What attracted you to real estate?
MG Beautiful home environments come naturally to me. I am blessed with coming from a country with such natural beauty, so beautiful homes are always exciting to me.
HL Who was your first mentor, and how did he/she influence you?
MG Actually, I had two mentors. I was so lucky to meet Suzanne Brangham who was known for her interior design work and impeccable home renovations. Suzanne had an eye and knack for finding good investments in what are now the most prestigious neighborhoods in the city. We teamed up in development with a handshake and are still the best of friends. My second was Florian McGuire Moore, a very well respected presence on the San Francisco residential scene.
HL You'll never be found without your…
MG Sense of humor.
HL What were your yearly sales for 2007? Forecast for 2008?
MG My gross sales in 2007 were about $135 million. For 2008 it should be the best ever! I do a lot of private high-end transactions that are not reported in the system.
HL What is your most memorable deal?
MG Every transaction is memorable. That's what makes it possible to be at the top of your game for more than 30 years. Not one transaction is ever the same. I should have kept a diary of the sales and experiences over the years. What a bestseller that would be! Variety is the spice of life.
HL Where do you live?
MG I live on the west slope of Russian Hill in a private cul-de-sac with incredible views of the Golden Gate Bridge. It's a two-story town house with roof garden, and it is filled with treasures from my family and travels over the years…European-style.
HL If money were no object, what property on the market would you recommend in the San Francisco area?
MG Location is all that counts. Stretch to buy the best location your purse can afford.
HL What is your formula for keeping your high-end and/or high profile clients happy?
MG Service and attention. A win-win attitude makes for happy clients. Clients should sign contracts with a smile!
HL Tell us one thing most people wouldn't know about you.
MG I almost became a professional jockey!
HL What is your proudest achievement?
MG My most recent sale!
HL Where would we find you on a Friday night?
MG Most likely the office, but…if I am lucky, top down on the way out of town.
HL What are your favorite vacation destinations and/or leisure activities?
MG I make it a point to go to a new golf course every year. There are some amazing courses in the U.S. and each one is worth a visit. Bandon Dunes of course is a must every year. Dream Golf was written about the Dunes and that it is!
HL Your forecast for the San Francisco real estate market for 2008?
MG The supply of fine view homes has rarely met demand from discerning buyers. So I think this segment of the market will do well for buyers and sellers alike.
HL What are your personal goals for 2008?
MG Stay healthy, happy, and share with the younger generation.
HL In your opinion, what makes San Francisco so special?
MG It is the city where people leave their hearts so this is where it is!
(article Sep/Oct 2008)
By Stephanie Wilson
Photography by Tania Soderman