Real Estate Rainmakers San Francisco Chronicle Magazine
February 04, 2013 Filed under: Press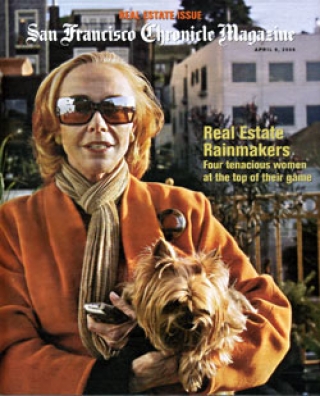 Four tenacious women at the top of their game
Nine of the top 10 largest residential real estate brokerages in the Bay Area are run by men. But in the upper reaches of the region's housing market, these four women dominate their respective territories. Though they emphasize that they buy and sell homes at all price levels, they are best known for trading in the multi-million dollar mansions of the rich and famous. Combined, Malin Giddings, Diane Gilfether, Mary Gullixson and Olivia Hsu Decker sold nearly $450 million worth of Bay Area real estate last year.
Malin Giddings:
Born: Stockholm, Sweden
Company: TRI Coldwell Banker
2005 Sales: $140 million
House: A duplex with a roof garden on a private street in Russian Hill
Car: Mercedes 500 SL convertible
What's a smart real estate investment? It's simply location, location, location. I always say north of California Street -- you can't go wrong.
Quote: "Staging never caught on in Europe. It's too fake for the European public."
Malin Giddings's cell phone is ringing, but she isn't picking it up.
"I think it's impolite to always take the cell phone call," she said. "The cell phone doesn't control me. I think people appreciate that."
In an industry typified by real estate agents alternately dashing through open home tours and chatting on fancy Razr phones, Giddings never seems in a hurry. That sense of steadiness and focus helped her sell nearly $140 million worth of San Francisco real estate last year (not to mention the private sales that are left off official tallies), making her the No. 1 agent in the city.
From her windowed perch on the third floor of the TRI Coldwell Banker office at Van Ness and Sacramento, Giddings surveys one of the most rarefied real estate markets in the world. And her world is rarefied beyond that. Although she points out that she buys and sells abodes at all price levels, her specialty is homes located north of California Street -- in other words, in posh neighborhoods stretching from Telegraph Hill to Seacliff.
"I know the good addresses like my handbag," she said. "It's all about location."
On this day in February that is a deep brown plush purse, which complements perfectly her orange sweater and striped fall-colored trousers. Giddings, 61, is bright-eyed and articulate, with a short blonde bob swept back from her face. She is sitting at her L-shaped desk, just a few feet away from two people who help make the real estate magic happen: Bob Gee, who is listed as her supporting agent, and Barbara Troast, her assistant.
"In real estate, it's very, very important that (clients) feel like they're dealing with you," said Giddings 61. "These people," she adds, motioning to Gee and Troast, "are backup support."
"Real estate is a full-time job, 24-7. My job is to communicate with clients. But there are so many other complicated things to worry about in today's world."
Troast, for instance, assists with publishing many of the glossy brochures for Giddings' listings. Gee, who has worked with Giddings for a quarter-century, coordinates stagers and property inspectors and works with escrow agents and the cooperating agent.
Giddings' various careers have hinged on strong partnerships.
She was born in Stockholm, Sweden, on the day of the Invasion of Normandy. As the daughter of a diplomat and the president of the Nobel Foundation, Giddings got used to moving between cities such as London, Paris and Washington, D.C. At 18, an enterprising attorney picked her to help him run a fledgling travel company arranging ski vacations from Sweden to the Swiss Alps. Giddings had to negotiate charter planes, visit hotels in Austria and Switzerland and organize the itineraries.
Later the two teamed up to start EF, which then stood for "Europeiska Ferieskolan" in Swedish, but now stands for Education First -- a "vacation school" for Swedish students, who would stay with host families in other countries to learn different languages. Eventually, the firm added programs for teachers and business leaders and now has offices and schools in 51 countries.
In the late 1960s, Giddings came to the United States to head the school's youth program here. For someone who didn't know North America very well, the assignment represented a steep learning curve.
"On my first trip to Niagara Falls, I didn't know it was in Canada, and I forgot my passport," Giddings said. "I was in charge of 32 people, so I had to talk my way through. I threatened that I would let all my chickens loose without me."
Giddings settled in San Francisco in the early 1970s after visiting a cousin, a model for Saks 5th Avenue who lived on Telegraph Hill.
Her love of skiing steered her toward a job as a spokeswoman for Alpine Meadows. There, she met and married TV weatherman Peter Giddings, to whom she had to give the morning snow report each day. But it was a short-lived union, and Giddings was forced to look for a new career. She got her real estate license and quickly became partners with Suzanne Brangham, who later went on to write "Housewise: A Smart Woman's Guide to Buying and Renovating Real Estate for Profit." The two also started Jackson Court, one of the first bed and breakfasts in San Francisco.
"We were just two young divorcees who wanted to make a few bucks," Giddings said. "We had no clue."
Giddings credits that experience with honing her negotiating skills and teaching her to spot undervalued properties.
Later Giddings worked under the late Florian McGuire Moore, who turned her family's commercial real estate business into one of the city's powerhouse residential firms.
"She did exactly what I do today," Giddings said. "She only sold what she liked and what she knew and in a very particular part of town."
Along the way, Giddings added her own touches. For instance, she usually shows her listings personally; and she often hires a car and driver when she must show a client several properties in one day.
Selling $10 million properties in Pacific Heights and Russian Hill doesn't always mean limousines and wine-and-cheese viewing parties. Giddings tells a story about showing some potential buyers a beautiful home in move-in condition. For three hours, the couple ripped the home apart. Finally, she asked them what they really wanted. Their reply: a fixer-upper.
So, at 5 a.m. one morning Giddings threw some flashlights into her car and showed them another property with only four standing walls and no plumbing.
"It's about listening to what people want," said Giddings, Swedish accent still apparent when she elongates syllables in words like "ceeeertain" and pronounces "business" as "bissness."
If clients' opinions are important, so are Giddings'.
She believes there's a reason women real estate agents dominate so many markets in the Bay Area.
"I think a good, hard-working woman works harder than a man," she said.
In addition, she said women realistically have the final say when it comes to selecting a home.
"Regardless of the fact that it's a financial decision, it's a warmer, fuzzier decision, so I think women (real estate agents) succeed more than men."
At the same time, Giddings can be critical about some of the practices in an industry that doesn't always garner the public's respect.
Where Giddings says she is careful to research comparable sales in a neighborhood before setting a price on a home, she said some agents simply tack on an inflated price just to land the listing. In the business, it's called buying a listing.
"You have to put yourself in the sellers' shoes," Giddings said. "You're looking at an agent who wants to list your house for $9 million, versus someone who wants to list it for $11.5 million."
Although Giddings might lose out on a listing for that reason, she said sellers sometimes seek her out when the property fails to sell.
Many clients seem to appreciate her approach.
"She's not a chit-chatter ... and she doesn't need to do all the glad-handing and 'Oh your house is so beautiful,' " said San Francisco psychologist Michelle Skeen, whom Giddings recently represented as both a seller and buyer. "It takes a strong person to be comfortable with her."
Giddings takes such comments in stride.
"Some people like me, some people couldn't stand working with someone like me," Giddings said. "I'm very hands-on and I have a strong presence and strong opinions."
(article April 9, 2006)