Thrillcall is the Best New App to Discover SF's Live Music Scene
November 04, 2012 Filed under: The Buzz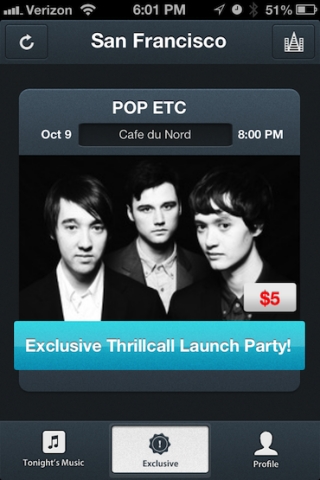 You don't have to live in San Francisco long to know that we have a seriously world-class music scene on our hands here. In any one week, you can see a fuzzed-out garage band that's the darling of the indie scene, jazz legends play at Yoshi's, a performance by the SF Symphony, or world-famous pop legends take over the stage at the Fillmore. One way to see every show that's at your fingertips and get great offers? The new iPhone and Android app from Thrillcall.
Once you download it, you'll be able to discover local concerts and venues in the city, get the best prices and purchase them through the app. And it's so easy to use.
If you're looking for something to do on any given night, Thrillcall's got you covered with their exclusive daily "flash" offers that you can score instantaneously with the mobile app. Featured in this tab are different promotions, such as backstage passes, drink tickets or free merchandise. Thrillcall works with major venues and festivals in the area, such as The Fillmore, Café Du Nord and NoisePop, so you know these offers are going to be awesome.

In the Tonight's Music tab, see what live events are happening in your city. Scroll through all the artists and venues, sample the music of who's playing, view the show on a map and find tickets.
We think of it as an awesome way to meet new friends, see parts of the city you've never explored, discover some of the best music in SF, and just get off the couch and have fun. We're spoiled in San Francisco. Thrillcall helps you take advantage of it! Try it out today.

7X7.com
http://www.7x7.com/tech-gadgets/thrillcall-best-new-app-discover-sfs-live-music-scene